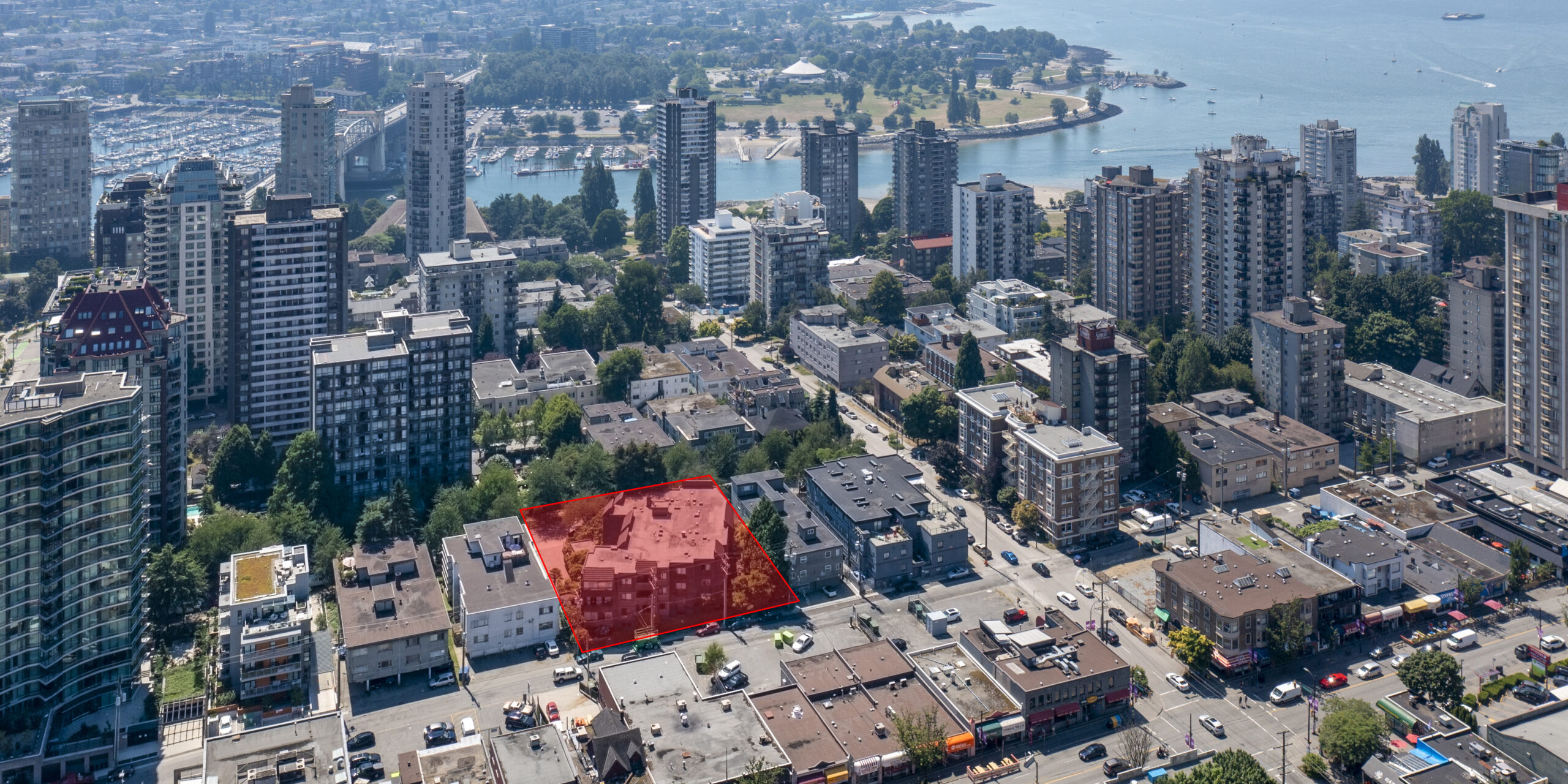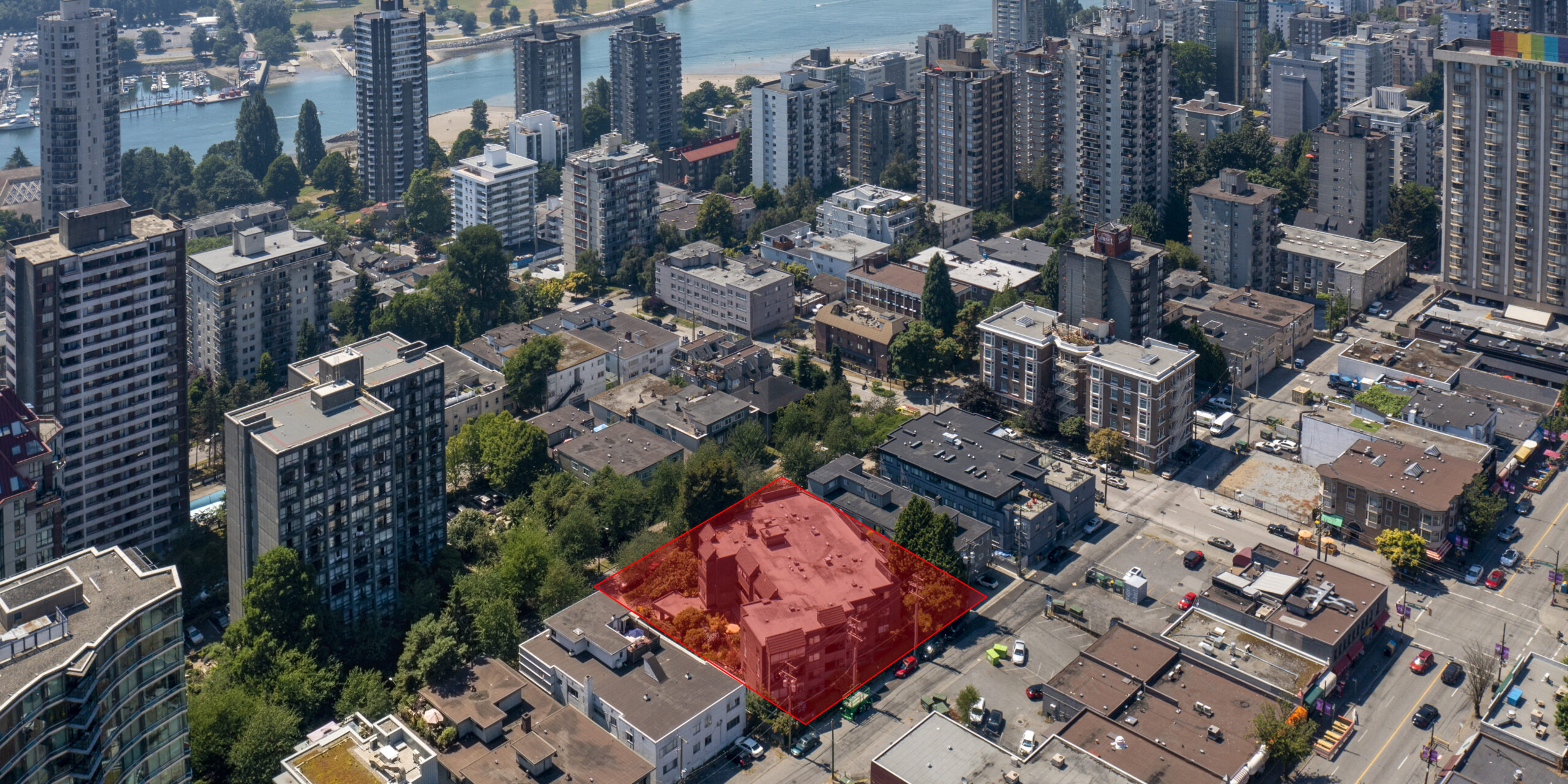 Gracorp and Fiera Partner to Bring a Unique, Landmark Rental Community to Vancouver's West End
FOR IMMEDIATE RELEASE | November 2, 2021
As part of a future-focused and innovative approach to development, Gracorp Properties Ltd (Gracorp) and Fiera Real Estate Core Fund LP (Fiera) have partnered to purchase and redevelop an existing condo building into a landmark rental community in Vancouver's West End.
Following the November 2020 approval of the City of Vancouver's "Enabling Policy," Gracorp contracted to purchase 1045 Burnaby Street with the vision of converting the existing 4-storey, wood-frame strata condo building into a new, concrete multi-family rental housing tower.
In collaboration with strata owners, Gracorp attained 100% approval for the sale. This significant achievement avoids the judicial-led strata wind-up process usually involved in these acquisitions. Following this successful unanimous vote, Gracorp partnered with Fiera Real Estate to purchase and redevelop the asset.
"This purchase represents the start of a new partnership between Fiera and Gracorp. This relationship leverages the synergies of capital, asset, development and construction management amongst the two firms.  We are excited to work with our partner Fiera, and the City of Vancouver to create a unique, modern rental community in Vancouver's West End," said Jake McEwan, Managing Director, British Columbia at Gracorp.
"Fiera is pleased to co-invest in this new joint venture to build a quality rental development that will add to Vancouver's rental inventory in a market that has been chronically under-supplied," stated William Secnik, SVP & Fund Manager for the Fiera Real Estate Core Fund. "The partnership will add additional housing units in a high order urban location in close proximity to extensive amenities and employment opportunities." William further stated.
Working with the City of Vancouver, Gracorp and Fiera are committed to bringing much-needed rental housing to the city's West End. This new rental community will add vibrancy to the English Bay community and deliver modern and innovative rental options to Vancouver's ever-evolving downtown core.
 ———
About Gracorp
Gracorp is the real estate development subsidiary of the Graham Group, one of North America's largest and most respected construction companies. Our expansive portfolio stretches across residential and commercial developments in Alberta, British Columbia, and Washington. From building communities to large shopping spaces, our expertise has led to delivering successful mixed-use, multi-family residential, office, industrial and retail projects. By committing to developing projects with lasting value, we consistently deliver excellent results for our clients, communities and the end-user.
About Fiera Real Estate
Fiera Real Estate is a leading investment management company with offices in North America and Europe and a team of over 80 employees. The firm globally manages over C$6.7 billion of commercial real estate through a range of investment funds and accounts as of June 30, 2021. It is an entrepreneurial team working within an institutional framework, enabling clients to benefit from a unique combination of creativity and innovation supported by industry-leading expertise and investment analysis – the best of both worlds. The highly diverse nature of its portfolio – in terms of both geographies and types of properties – combined with a range of best-in-class strategies provides investors with exceptional opportunities to diversify their exposure and customize their investment experience within the real estate asset class.
Fiera Real Estate is wholly owned by Fiera Capital Corporation, a leading independent global asset management firm with more than C$179.5 billion of AUM as of June 30, 2021. Fiera Capital Corporation provides Fiera Real Estate with access to global investment market intelligence, which enhances its ability to innovate within a framework that emphasizes risk assessment and mitigation.
MEDIA CONTACT: 
Gracorp
info@gracorp.com